Holiday and Break Dining Hours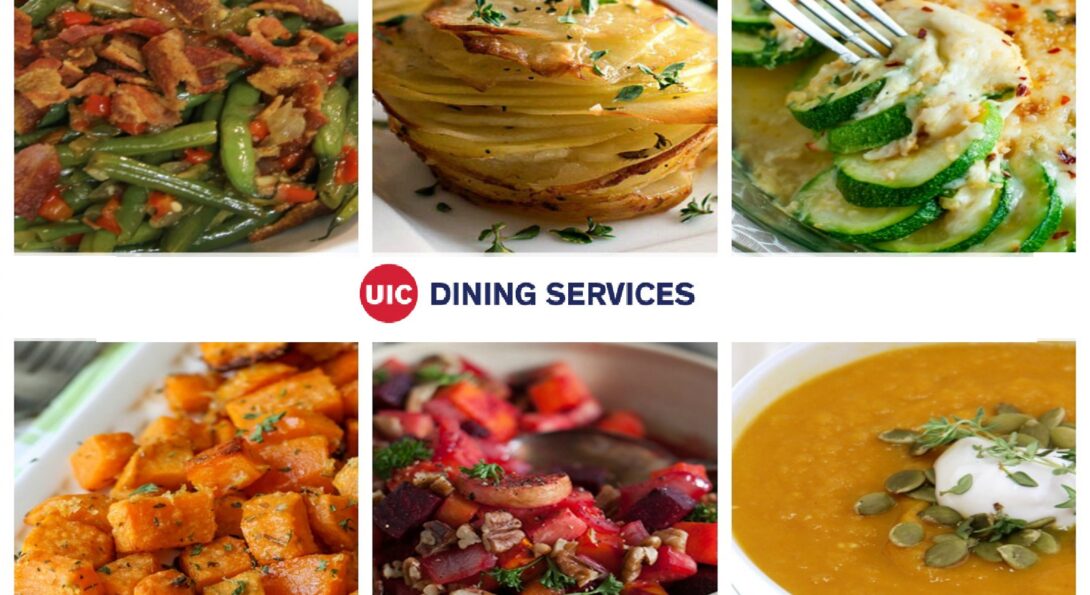 Dining Hours 12/18/2022 - 1/7/2023
We are committed to keeping you healthy and safe! Please contact us at dining@uic.edu for assistance.
The winter break schedule below is listed by date and building location. Please toggle to the correct location for each week by clicking "Next" on the bottom right of each table.
Please note:
All Dining locations are closed on Friday, December 23, 2022 through Sunday, December 25, 2022
On Sunday, January 8, 2023 United Table and JST Cafe will be open for dinner service at 4:30pm. Please see hours of operation.
All Dining locations will resume regular hours on Monday, January 9, 2023.
| Location | Sunday 12/18/22 | Monday 12/19/22 | Tuesday 12/20/22 | Wednesday 12/21/22 | Thursday 12/22/22 | Friday 12/23/22 | Saturday 12/24/22 |
| --- | --- | --- | --- | --- | --- | --- | --- |
| United Table, SCE | Closed | Closed | Closed | Closed | Closed | Closed | Closed |
| Chick-Fil-A, SCE | Closed | Closed | Closed | Closed | Closed | Closed | Closed |
| Circle Burger, SCE | Closed | Closed | Closed | Closed | Closed | Closed | Closed |
| Crave Chicago, SCE | Closed | Closed | Closed | Closed | Closed | Closed | Closed |
| Dunkin', SCE | Closed | 7:00 am - 6:00 pm | 7:00 am - 6:00 pm | 7:00 am - 6:00 pm | 7:00 am - 6:00 pm | Closed | Closed |
| Market at Halsted, SCE | Closed | 9:00 am - 5:00 pm | 9:00 am - 5:00 pm | 9:00 am - 5:00 pm | Closed | Closed | Closed |
| Moe's, SCE | Closed | Closed | Closed | Closed | Closed | Closed | Closed |
| Panda Express, SCE | Closed | Closed | Closed | Closed | Closed | Closed | Closed |
| Sbarro, SCE | Closed | Closed | Closed | Closed | Closed | Closed | Closed |
| Subway, SCE | Closed | 9:00 am - 3:00 pm | 9:00 am - 3:00 pm | 9:00 am - 3:00 pm | 9:00 am - 2:00 pm | Closed | Closed |
| Wow Bao, SCE | Closed | Closed | Closed | Closed | Closed | Closed | Closed |
| Tropical Smoothie, SRF | Closed | Closed | Closed | Closed | Closed | Closed | Closed |
| Market at Morgan, BSB | Closed | Closed | Closed | Closed | Closed | Closed | Closed |
| Au Bon Pain, BSB | Closed | Closed | Closed | Closed | Closed | Closed | Closed |
| Starbucks, ARC | Closed | Closed | Closed | Closed | Closed | Closed | Closed |
| Port Center Cafe, UH | Closed | Closed | Closed | Closed | Closed | Closed | Closed |
| JST Cafe | Closed | Closed | Closed | Closed | Closed | Closed | Closed |
| Starbucks, UVM | 8:00 am - 5:00 pm | 7:00 am - 7:00 pm | 7:00 am - 7:00 pm | 7:00 am - 7:00 pm | 7:00 am - 7:00 pm | Closed | Closed |
| Marketplace, SCW | Closed | 11:00 am - 2:00 pm | 11:00 am - 2:00 pm | 11:00 am - 2:00 pm | Closed | Closed | Closed |
| Starbucks, SCW | Closed | 7:00 am - 4:00 pm | 7:00 am - 4:00 pm | 7:00 am - 4:00 pm | Closed | Closed | Closed |
| Subway, SCW | Closed | 8:00 am - 4:00 pm | 8:00 am - 4:00 pm | 8:00 am - 4:00 pm | 8:00 am - 4:00 pm | Closed | Closed |
| Frank N Fries, OTM | Closed | 8:00 am - 5:00 pm | 8:00 am - 5:00 pm | 8:00 am - 5:00 pm | 8:00 am - 5:00 pm | Closed | Closed |
| Sbarro, OTM | Closed | 7:00 am - 6:00 pm | 7:00 am - 6:00 pm | 7:00 am - 6:00 pm | 7:00 am - 6:00 pm | Closed | Closed |
| Au Bon Pain, OCC | Closed | 7:00 am - 3:00 pm | 7:00 am - 3:00 pm | 7:00 am - 3:00 pm | Closed | Closed | Closed |
| Wood Street Station, CSB | Closed | 8:00 am - 4:00 pm | 8:00 am - 4:00 pm | 8:00 am - 4:00 pm | 8:00 am - 4:00 pm | Closed | Closed |
| The Bean, SPHPI | Closed | Closed | Closed | Closed | Closed | Closed | Closed |
| Location | Sunday 12/25/22 | Monday 12/26/22 | Tuesday 12/27/22 | Wednesday 12/28/22 | Thursday 12/29/22 | Friday 12/30/22 | Saturday 12/31/22 |
| --- | --- | --- | --- | --- | --- | --- | --- |
| United Table, SCE | Closed | Closed | Closed | Closed | Closed | Closed | Closed |
| Chick-Fil-A, SCE | Closed | Closed | Closed | Closed | Closed | Closed | Closed |
| Circle Burger, SCE | Closed | Closed | Closed | Closed | Closed | Closed | Closed |
| Crave Chicago, SCE | Closed | Closed | Closed | Closed | Closed | Closed | Closed |
| Dunkin', SCE | Closed | 7:00 am - 6:00 pm | 7:00 am - 6:00 pm | 7:00 am - 6:00 pm | 7:00 am - 6:00 pm | 7:00 am - 6:00 pm | Closed |
| Market at Halsted, SCE | Closed | Closed | Closed | Closed | Closed | Closed | Closed |
| Moe's, SCE | Closed | Closed | Closed | Closed | Closed | Closed | Closed |
| Panda Express, SCE | Closed | Closed | Closed | Closed | Closed | Closed | Closed |
| Sbarro, SCE | Closed | Closed | Closed | Closed | Closed | Closed | Closed |
| Subway, SCE | Closed | Closed | Closed | Closed | Closed | Closed | Closed |
| Wow Bao, SCE | Closed | Closed | Closed | Closed | Closed | Closed | Closed |
| Tropical Smoothie, SRF | Closed | Closed | Closed | Closed | Closed | Closed | Closed |
| Market at Morgan, BSB | Closed | Closed | Closed | Closed | Closed | Closed | Closed |
| Au Bon Pain, BSB | Closed | Closed | Closed | Closed | Closed | Closed | Closed |
| Starbucks, ARC | Closed | Closed | Closed | Closed | Closed | Closed | Closed |
| Port Center Cafe, UH | Closed | Closed | Closed | Closed | Closed | Closed | Closed |
| JST Cafe | Closed | Closed | Closed | Closed | Closed | Closed | Closed |
| Starbucks, UVM | Closed | 7:00 am - 7:00 pm | 7:00 am - 7:00 pm | 7:00 am - 7:00 pm | 7:00 am - 7:00 pm | 7:00 am - 5:00 pm | 8:00 am - 2:00 pm |
| Marketplace, SCW | Closed | Closed | Closed | Closed | Closed | Closed | Closed |
| Starbucks, SCW | Closed | Closed | Closed | Closed | Closed | Closed | Closed |
| Subway, SCW | Closed | Closed | Closed | Closed | Closed | Closed | Closed |
| Frank N Fries, OTM | Closed | Closed | Closed | Closed | Closed | Closed | Closed |
| Sbarro, OTM | Closed | Closed | Closed | Closed | Closed | Closed | Closed |
| Au Bon Pain, OCC | Closed | Closed | Closed | Closed | Closed | Closed | Closed |
| Wood Street Station, CSB | Closed | Closed | 8:00 am - 4:00 pm | 8:00 am - 4:00 pm | 8:00 am - 4:00 pm | 8:00 am - 3:00 pm | Closed |
| The Bean, SPHPI | Closed | Closed | Closed | Closed | Closed | Closed | Closed |
| Location | Sunday 1/1/23 | Monday 1/2/23 | Tuesday 1/3/23 | Wednesday 1/4/23 | Thursday 1/5/23 | Friday 1/6/23 | Saturday 1/7/23 |
| --- | --- | --- | --- | --- | --- | --- | --- |
| United Table, SCE | Closed | Closed | Closed | Closed | Closed | Closed | Closed |
| Chick-Fil-A, SCE | Closed | 9:00 am - 4:00 pm | 9:00 am - 4:00 pm | 9:00 am - 4:00 pm | 9:00 am - 4:00 pm | 9:00 am - 4:00 pm | Closed |
| Circle Burger, SCE | Closed | Closed | Closed | Closed | Closed | Closed | Closed |
| Crave Chicago, SCE | Closed | Closed | Closed | Closed | Closed | Closed | Closed |
| Dunkin', SCE | Closed | 7:00 am - 6:00 pm | 7:00 am - 6:00 pm | 7:00 am - 6:00 pm | 7:00 am - 6:00 pm | 7:00 am - 6:00 pm | Closed |
| Market at Halsted, SCE | Closed | 9:00 am - 5:00 pm | 9:00 am - 5:00 pm | 9:00 am - 5:00 pm | 9:00 am - 5:00 pm | 9:00 am - 5:00 pm | Closed |
| Moe's, SCE | Closed | 10:00 am - 3:00 pm | 10:00 am - 3:00 pm | 10:00 am - 3:00 pm | 10:00 am - 3:00 pm | 10:00 am - 3:00 pm | Closed |
| Panda Express, SCE | Closed | Closed | Closed | Closed | Closed | Closed | Closed |
| Sbarro, SCE | Closed | Closed | Closed | Closed | Closed | Closed | Closed |
| Subway, SCE | Closed | 9:00 am - 3:00 pm | 9:00 am - 3:00 pm | 9:00 am - 3:00 pm | 9:00 am - 3:00 pm | 9:00 am - 3:00 pm | Closed |
| Wow Bao, SCE | Closed | Closed | Closed | Closed | Closed | Closed | Closed |
| Tropical Smoothie, SRF | Closed | Closed | 11:00 am - 7:00 pm | 11:00 am - 7:00 pm | 11:00 am - 7:00 pm | 11:00 am - 7:00 pm | 11:00 am - 7:00 pm |
| Market at Morgan, BSB | Closed | Closed | Closed | Closed | Closed | Closed | Closed |
| Au Bon Pain, BSB | Closed | Closed | Closed | Closed | Closed | Closed | Closed |
| Starbucks, ARC | Closed | Closed | Closed | Closed | Closed | Closed | Closed |
| Port Center Cafe, UH | Closed | Closed | 9:00 am - 2:00 pm | 9:00 am - 2:00 pm | 9:00 am - 2:00 pm | 9:00 am - 2:00 pm | Closed |
| JST Cafe | Closed | Closed | Closed | Closed | Closed | Closed | Closed |
| Starbucks, UVM | 8:00 am - 5:00 pm | 7:00 am - 7:00 pm | 7:00 am - 7:00 pm | 7:00 am - 7:00 pm | 7:00 am - 7:00 pm | 7:00 am - 5:00 pm | 8:00 am - 5:00 pm |
| Marketplace, SCW | Closed | 11:00 am - 2:00 pm | 11:00 am - 2:00 pm | 11:00 am - 2:00 pm | 11:00 am - 2:00 pm | 11:00 am - 2:00 pm | Closed |
| Starbucks, SCW | Closed | 7:00 am - 4:00 pm | 7:00 am - 4:00 pm | 7:00 am - 4:00 pm | 7:00 am - 4:00 pm | 7:00 am - 4:00 pm | Closed |
| Subway, SCW | Closed | 8:00 am - 4:00 pm | 8:00 am - 4:00 pm | 8:00 am - 4:00 pm | 8:00 am - 4:00 pm | 8:00 am - 4:00 pm | Closed |
| Frank N Fries, OTM | Closed | Closed | Closed | Closed | Closed | Closed | Closed |
| Sbarro, OTM | Closed | Closed | Closed | Closed | Closed | Closed | Closed |
| Au Bon Pain, OCC | Closed | 7:00 am - 3:00 pm | 7:00 am - 3:00 pm | 7:00 am - 3:00 pm | 7:00 am - 3:00 pm | 7:00 am - 3:00 pm | Closed |
| Wood Street Station, CSB | Closed | 8:00 am - 4:00 pm | 8:00 am - 4:00 pm | 8:00 am - 4:00 pm | 8:00 am - 4:00 pm | 8:00 am - 3:00 pm | Closed |
| The Bean, SPHPI | Closed | Closed | Closed | Closed | Closed | Closed | Closed |
Modified on December 22, 2022